Trading Betfair on the All Weather
Trading Betfair on the All Weather
What Difference Does Polytrack, Fibresand & Tapeta make?
All Weather Racing Guide
(For individual Courses follow the links for Trackfaxs for even more information)
POLYTRACK
Polytrack is the most popular choice of surfaces for all weather tracks in the UK. It's a fast surface, with little jar and basically no kickback. Horses can enjoy their racing and because it quickly regains it's shape after being racing on that means there's less stress on tendons.
The following tracks are Polytrack:
Lingfield
Lingfield is the most prestigious all weather track in the UK. It hosts the All Weather Championships each year on Good Friday. The surface at Lingfield is Polytrack and it usually favours speedy horses. You generally get very fast finishes at Lingfield around a tight track. The track is slightly downhill down the back straight which adds to the speed the horses can generate – it is the fastest all weather track in the UK.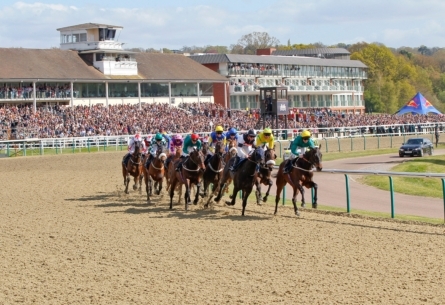 Kempton
Kempton replaced it's flat track with a Polytrack in 2006, and has staged all weather racing all year round since. They managed to keep their high-quality flat races so a lot of top quality horses race here. Aside from the All Weather Championships at Lingfield, Kempton is the best all weather track is terms of quality horses racing on it. It's a very flat oval track but it has two very different finishes. The inner course really favours speed and being towards the front for a good position, while the outer course has a three furlong finishing straight so horses can really get into a stride and finish strongly.
Chelmsford City
Chelmsford City was originally opened as Great Leighs in 2008, but they closed very soon after opening and after a six year wait, opened again as Chelmsford City. They use a Polytrack surface on a fairly straightforward oval-shaped course. The surface does give quite a lot of kickback, a bit like fibresand, and many horses don't like being caught in mid division. In sprints if you are leading off the final bend it is an advantage as you'll be quite difficult to pass, so look for speedy front runners out of stall 1 in 5f events. It is a lot more of a galloping track than Lingfield or Kempton with big sweeping bends.
TAPETA
Tapeta is very similar to Polytrack. There's almost no kickback and they say that it's more versatile than Polytrack. It's a very fair surface to race, and would be quite similar to good going on a turf track – as similar as all weather could be anyway!
The following tracks have Tapeta surfaces:
Wolverhampton
Wolverhampton racecourse actually started with Firbesand, but then went on to use Polytrack in 2004 but after that they changed to Tapeta in 2014. As we explained above, Tapeta is very similar to Polytrack and with Wolverhampton being such a tight track – it suits speedy horses. Wolverhampton was actually the first to stage racing under lights in the UK, and it is generally accepted that they view racing as quantity rather than quality! It favours closing horses and is almost impossible to front run and win (except 5f). Over 1m1f it is the least likely place in the country for a front runner to win at. The final bend seems to catapult the field into the straight and you can often see a horse who is 5l clear on the bend get caught (having traded very low).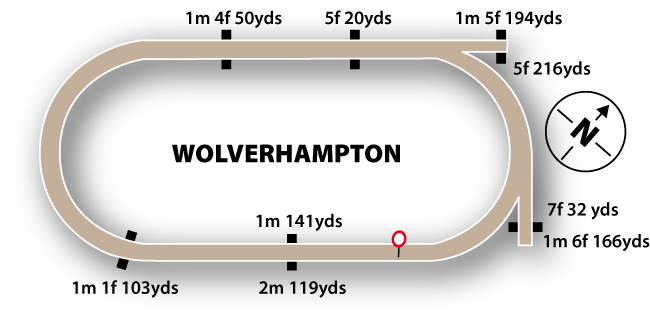 Newcastle
Newcastle is the newest all weather track in the UK. They dug up their turf track and opened their all weather track in the 2015/2016 winter season. Like Wolverhampton, they use a Tapeta surface. Unlike the other all weather tracks Newcastle has a mile straight so most races are run on the straight course. This is great for galloping types and newcomers as they don't get unbalanced as they can do going round tight bends like Wolverhampton. John Gosden is a particular fan of Newcastle and tends to send a lot of his two year olds there to learn their trade.
FIBRESAND
Then we have Fibresand at Southwell. It's completely different to Polytrack and Tapeta and Southwell is the only course to use it. It's much slower than the other two surfaces, and it's a lot harder work for the horses. If Polytrack was similar to Good ground on turf, then Fibresand would be very similar to Soft. That would be the best way to understand the differences.
Southwell
Unlike Polytrack and Tapeta, Fibresand produces a lot of kickback, only Chelmsford comes anywhere near, which some horses hate. Some commentator feel that Southwell is more equivalent to US dirt tracks and certainly it is true that US stallions do better than Irish or GB stallions. Other people say soft ground specialist do well at Southwell and again the stats bear this out with a correlation between stallions who have a lot of soft ground winning prodgeny and those that do well at Sothwell. Not really surprising as you don't skip over fibresand but a high action which sticks the toe in first gets the best out of the surface. When looking for winners it is best to see if the horse has run well here before. You will find Southwell specialists who can't win anywhere else.
Southwell is said to favour front runners but I'm not sure and the stats don't really bear that out. Sure if you get in front you can choose where to run and there is a track about 5 horse widths off the rails which seems to hold an advantage. Being on the rails in the straight is not the place to be.

| | | | | | | | |
| --- | --- | --- | --- | --- | --- | --- | --- |
| Origin of Stallion | Runs | Wins | Win% | P/L (SP) | Place% | ROI (SP) | A/E |
| (GB) | 7881 | 892 | 11.3 | -1815.6 | 29.3 | -23.0 | 0.86 |
| (IRE) | 5919 | 700 | 11.8 | -1327.8 | 30.1 | -22.4 | 0.85 |
| (USA) | 1248 | 225 | 18.0 | 155.6 | 38.8 | 12.5 | 1.03 |
Southwell (AW) runners by country of origin, 1st Jan 2012 to present